Registration Now Open for the National Rural Grocery Summit VII
We hope you will join us for the 7th National Rural Grocery Summit being held in Manhattan, KS on June 8-9, 2020.
Please visit here for more information.
Student Internship Position Available
We are excited to announce that a paid student internship position is now available at the K-State Center for Engagement and Community Development. The position focuses on writing, organizing, planning, and completing work to support tracking, reporting, and developing written materials. The student intern will work with several programs - the Center for Engagement and Community Development (CECD), the Institute for Civic Discourse and Democracy (ICDD), the Kansas Healthy Food Initiative (KHFI), and the Rural Grocery Initiative (RGI) - with faculty, staff, students, community and business leaders. This paid internship is an excellent opportunity to grow leadership and organizational skills.
This position starts in January 2020, with training in early December 2019.
Submit resume, names of three professional references, and a letter of application to: Chandra Ruthstrom at chandra@ksu.edu by Thursday, December 12th.
You must be currently enrolled as a student at Kansas State University.
Click here for a detailed position description.
The Rural Grocery Initiative and Kansas Healthy Food Initiative are hosting Regional Rural Grocery Workshops throughout Kansas through early 2020. More details can be found under the Events tab.
Scheduled Workshops:
Southeast: Parsons, KS on November 14, Agenda
Save the Date: The National Rural Grocery Summit
The Rural Grocery Initiative is proud to present the National Rural Grocery Summit VII this summer! The Summit is designed to bring rural grocery owners and operators together to build connections and create a community.
The Summit will take place June 8-9 in Manhattan, Kansas, registration will open in early 2020. To save the date and for more information, see below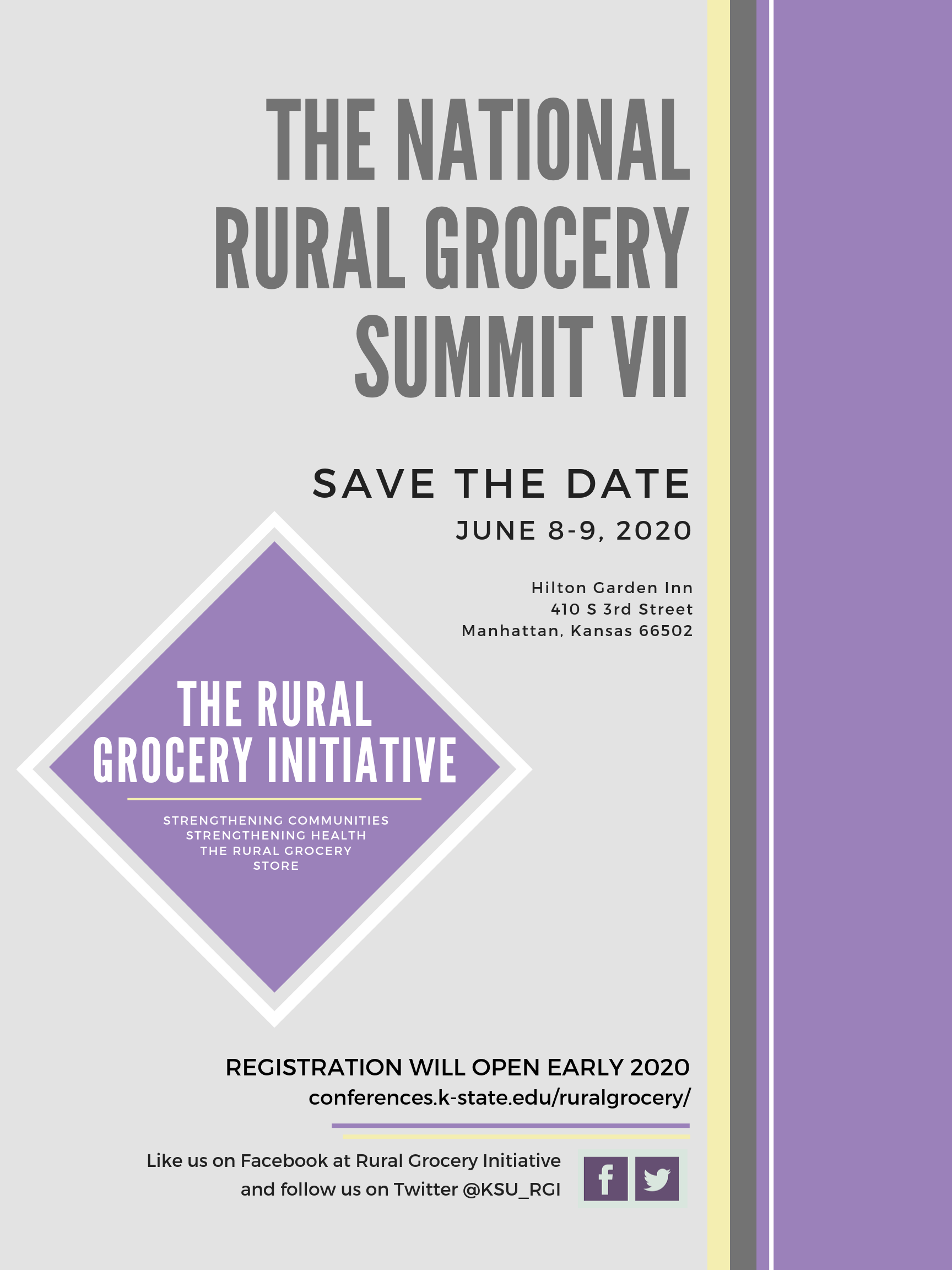 Kansas Healthy Food Initiative

The Kansas Healthy Food Initiative (KHFI) is a public-private partnership that aims to increase access to affordable, healthy food to improve the health and economic development of Kansans and their communities. The KHFI provides technical assistance for those seeking to strengthen access to healthy foods as well as financing through a mix of loans and grants to develop new or renovate healthy food retail in underserved communities throughout Kansas. The program works to bridge informational and financing gaps faced by healthy food stakeholders and food retailers operating in low- to moderate-income areas.

Seeded by the Kansas Health Foundation, the initiative is a partnership among Kansas State University's Center for Engagement and Community Development, IFF (a community development finance institution) and NetWork Kansas, with strategic guidance provided by The Food Trust.